Monitor and Analyse the Natural Environment
GDi provides tools and applications to enable the collection, interpretation and analyses of complex data to obtain useful information to support decisions that can lead to more sustainable use of our natural resources.
Forestry
Improving Forest Management
Forestry involves the management of a broad range of natural resources within a forested area. Using GDi solutions, forest cover maps can be updated on a consistently regular basis. This provides forest managers with the latest relevant information, something that was previously unavailable. Forestry management has evolved and map-based data has become an integral part needed for planning, management, protection, conservation and sustainable development of forest resources.
As an experienced partner in supporting forest management, GDi was selected to produce the conceptual and operative plan for the future inventory of Croatian forests. Our solutions offer integral monitoring of the forest areas using satellite detection and terrain survey.
Water Resources
Managing Earth's most Precious Resource
Due to modern demands, the availability and quality of water has become ever more critical. This has meant that water resources management has become not only important, but absolutely necessary. The role of geo-enabled information is essential in water management projects especially in collecting the data, integrating within the database and presenting it to the public. GDi solutions can help you in your daily activities such as water resources management, development and flood protection, protecting the quality of drinking water, drinking water distribution and waste management.
See Ensemble for Water Resources HERE
Fisheries
Sustainable Management of Marine Resources
GDi provides a  complete robust and comprehensive  solution for strategically planning, monitoring and managing fisheries resources and policies.
Check out Ensemble for Fisheries Management HERE
National Parks and Protected Areas
Conserve and Protect Nature's Wild Areas
Preservation of natural processes as well as protection and development of natural values within National Parks and Nature Parks are of highest importance. The establishment of a database containing spatial data from various fields, such as geography, hydrology, geology, pedology and forest surveillance data enables the park management staff to search, relate, preview and analyze the collected data.
Tourist maps are a very effective tool for park visitors and managers. They assist in the communication between resource managers, the public and the academic community, since they are able to provide a simple visualization of objects and areas of interest.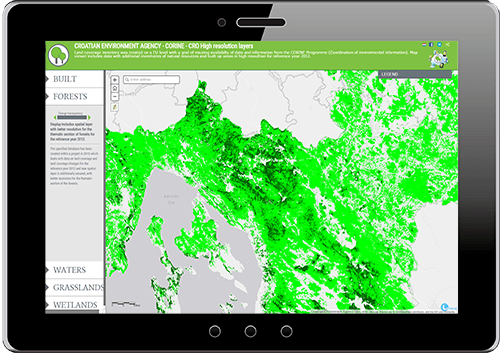 Selected Uses and Benefits in this sector
Environmental Impact Assessment – e.g. mapping pollution sources and impacts on environment and people.

Provide a comprehensive decision support system in key areas such as the active management of flood risk.

Manage forests by using our data visualization and modeling tools.

Efficient and clear information exchange including presentation of key information for public.

Understand and forecast impacts on biodiversity.
Share With Others
Share GDi Solutions for Natural Resources and Envronment
New Water Information System for Albania To provide for the efficient organization of the Albanian River Basin Agencies and the monitoring of water management for the whole Albanian territory, GDi is currently implementing the