Simplifying the complex for operational success
Making deliveries on time, allowing orders tracking and transparency, as well as efficiently managing the workforce and other business processes are vital in this sector for ensuring successful daily operations.
Our solutions manage real-time vehicle tracking, solve complex, point-to-point routing and scheduling based on the most accurate datasets for the whole of Europe. Efficiently balance complex workforce management requirements with the overall optimization of business processes to minimize operational costs, maximize productivity, and improve internal and external customer experience.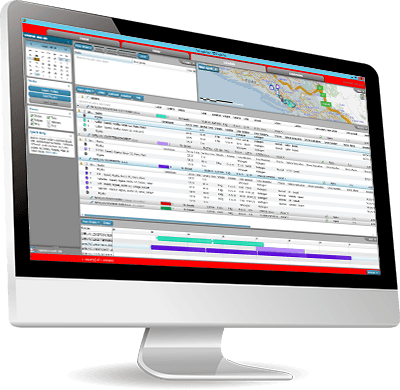 Selected Benefits for Transport and Logistics
Streamline and simplify business systems and processes.

Understand complex data easily through location. Get the best knowledge of capacity and cost and see the potential for improvements.

Correct problems quickly by accessing pertinent data. Clearly see inefficiencies and problems early, before they disrupt your business.

For courier and postal operations streamline deliveries, cut costs, and improve customer satisfaction.

Combine insightful location analysis with traditional business intelligence systems to solve any business challenge.
Advanced management of daily fleet operations
Businesses need to be able to track, analyze and manage entire vehicle fleets with clear visualization of critical information about each vehicle. Driving down operational costs by saving time and money requires getting the right information when you need it. Our solution Ensemble for Fleet Management is built for high demand business users that have advanced needs for positioning accuracy and require the ability to run comprehensive and in-depth reporting. It features a comprehensive vehicle tracking system that gives the user powerful real-time functionality combined with a simple and easy to use interface.
Increase efficiency by monitoring every touch point and process
Companies involved in the production and distribution of consumer goods can benefit enormously from the use of a variety of geo-enabled tools and applications.
The resulting improvements in production and resource management will lead to a reduction in costs and increased revenues. Usage of geoanalytics includes big data to optimize supply chain and delivery networks.
Ensemble for Logistics
offers you a comprehensive solution for complex routing and scheduling tasks, creating a streamlined path from point of entry to consumer. It helps minimize operational costs, maximize productivity, and improve your customer experience.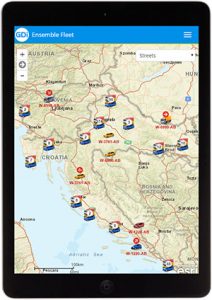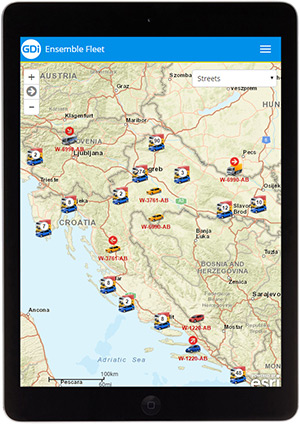 Find out more
Get more information about our solutions for transport and logistics
Share with others
Share our solutions for transport and logistics