Facing The Challenges
Use the power of location information. Determine trends, patterns, and make informed decisions based on accurate and timely information. Visualize, analyze, and manage your network assets and events.
Oil and gas
The Power of Spatial Analysis
Using GDi solutions, energy companies can not only make the best decisions concerning environment protection, but can grow their business without endangering people and property.
GDi helps energy companies meet business goals throughout the organization; from locating and extracting new resources to improving efficiency and the bottom line. Powerful analytical tools assist users to see relationships and patterns, answer complex questions, and make better decisions. The power and security of GDi solutions gives everyone in your company valuable geographic insight to find prospects, build infrastructure, maintain assets, plan projects, help customers, and manage risk.
Electric Power
Efficient Power Distribution
For utility and communication companies, GDi provides a platform to access business data, manage assets, update network information, integrate work orders, find customer information, and prepare reports.
GDi Vizion for quantitative analysis and visualization helps to systematically model, measure, and visualize issues related to planning and engineering, marketing and sales, and customer care departments.
Water Utilities
Sustainable Water Services
Reliable water services derive from having powerful tools in helping to manage the flow of water and wastewater to homes and businesses. GDi solutions can also be used to track the location and condition of water mains, valves, hydrants, meters, storage facilities, sewer mains, and manholes. Your data will flow like your water.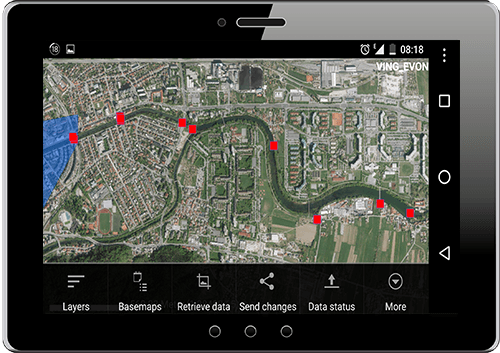 Selected Benefits for Energy and Utilities Companies
Maximize operational efficiency of your assets and drive down costs.

Make smarter decisions and let location-based analyses guide your next step forward.

Monitor  events or daily operations from your desktop or tablet or smartphone

Simplify design, planning and operational tasks and streamline workflows.

Effectively manage end-user services, comply with regulations and inform and retain customer loyalty.
Share With Others
Share GDi Solutions for the Energy and Utilities Industries
Enterprise Fleet Management at INA d.d. GDi provided a full cloud-based Software as a Service (SaaS) implementation of the Ensemble for Fleet Management product on telecom provider VIPnet's infrastructure. It includes full integration of the
Creating Business Benefits Petroleum Industry of Serbia (NIS) One of the largest vertically integrated energy companies in South-East Europe with its principal activities related to exploration, production and refining, sales and distribution of a