Information in the Right Place at the Right Time
Get answers quickly and make smarter decisions based on focused geographic data. Empower board members, managers, engineers, field workers and customer service representatives with information to help them answer questions fast.
Converged Telecom Operations
Plan, Build and Manage
Networks are becoming extremely complex. In order to support the rush of new services, such as Triple Play, Voice over IP (VoIP), IP-TV, and Metro Ethernet, operators have to mix and manage more and more technologies. These include Fiber To The X (FTTx), IP, and Passive Optical Networks. As a result, the need for a planning and engineering system that can support any network, any technology, and any type of equipment right down to the individual glass fiber is critical. This system is the key to knowing where customers are located, linking them to the network, and efficiently managing the quality of converged services.
Cloud Services
Cloud Solutions for Innovative Business Growth
In order to help mobile operators maximize profits, GDi has developed a reliable cloud and value added services platform. We offer a middleware platform with various service oriented capabilities and software components.
Location Services
Deploy Value Added Services
Our cloud platform enables the deployment of various value added services such as Fleet Management, Information Services, Yellow Pages, Tracking, Mobile Voting, Proximity Games and 3rd party applications.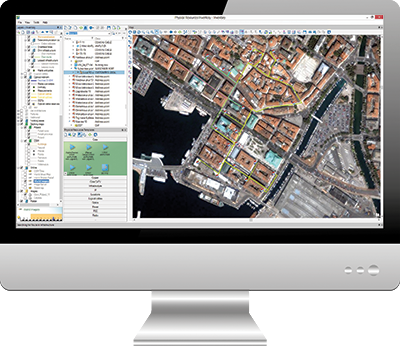 Selected Benefits for Telecom and Media
Optimize your network – Visualize internal and external data, such as demographics and market trends and make smarter decisions about cable, towers, and service coverage. Efficiently plan, build, and optimize the expansion of services.

Stronger Collaboration – Connect office to field workforce, share information internally for quicker decision making.

Business Expansion – Compare current with proposed service expansion and coverage areas with a smart location-based strategy.

Improve the Customer Experience – Empower front line customer service staff with the right information. Isolate trouble areas and leverage data to satisfy customers.
Share With Others
Share GDi Solutions for Telecom and Media
Kuwait University City Operating and maintaining information & communication technology (ITC) infrastructure at Kuwait University. |GDi Ensemble for Telecom Networks - purpose and role in KUC. The solution