Boost productivity, drive operational performance and accelerate the time-to-market
Ensemble for Workforce Management is a web-based solution that enables organizations to efficiently plan, forecast, and schedule employees to meet service level goals. It provides for the manageability of work, people, and processes at all stages of any task, across all departments, at any location, and under various working conditions. Our solution allows a complete view of how work is being done and the status of any work items.
Ensemble for Workforce Management is fully integrated with Ensemble for Business Process Management. This allows each task delegated to any worker to be displayed in the worker's task list, which is accessible from any device. Using our solution, business processes and data collection requirements can be easily modelled and customized to suit the needs of any business sector or industry.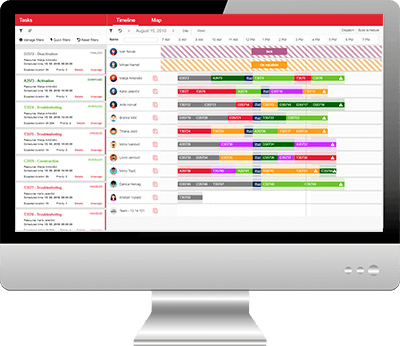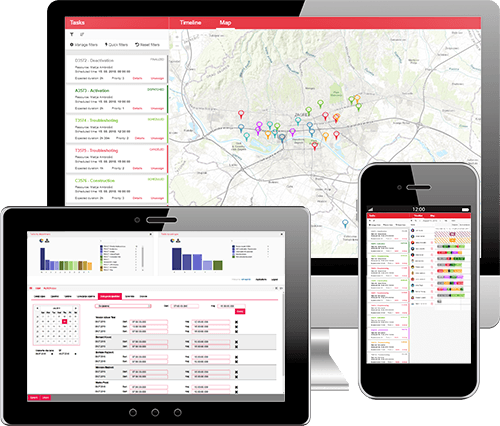 Efficient workforce management – match skills with tasks, arrive at the right place and time for the correct customer for optimum service delivery
Key Benefits:
Harmonize the execution of workforce tasks across internal, external and field resources.

Ensure accurate forecasting and cost-effective scheduling across all communication channels. Schedule optimization uses multiple criteria such as location and time, as well as resource characteristics and skills.

Real-time monitoring of work status per tasks or resources.

Better workforce efficiency and company productivity.

Increase customer satisfaction by achieving the best possible service level.

Grow revenue by decreasing the time to market of products and services.

Collaborate effectively with third party contractors.

Decrease the costs of labour and materials.

Easily integrate with existing or other in-house systems (e.g. ERP, CRM).
Industry Proven solution
Selected features include:
Resource Administration
Manage workforce resource (employees/subcontractors) per date / time, time window, attendance, skills, location.

Real-time Scheduling with Real-time Location Tracking
Assign / re-assign tasks to corresponding workforce resource by reserving available work time slot depending on task duration (avoiding excessive workload).

Monitoring
Track and manage the status of work execution per task and resource.

Dispatching
Select appropriate resources by matching skills with work task type.  Allocate the correct parts / materials and ensure the field workers are sent to the right customer and location.
Activity and Event Logging
Log all user actions and system changes.

Automated Schedule Optimization
Automatic resource selection depending on location covered, resource individual rating, skills and / or workload.

Any Device
Staff can access the Workforce module via any device such as smartphone or tablet.

Geographical Routing and Dispatching
Dispatch through the use of geographical and street-based routing including scheduling of vehicles and resources

Modern UX and GUI
Real-time overview of the status of all tasks.  
Find out more
You deserve a better workforce management solution
Share with others
Share Ensemble for Workforce Management