Creating Efficiencies. Stimulating Growth.
with GDi Smart Digital Solutions. Our powerful tools and applications are helping businesses and organisations to succeed in meeting the many demands and challenges of the modern world.
See more

Industries and business sectors
Our products and solutions are making a real difference in sectors such as telecoms, energy, government, natural resources / environment and commercial business.
View all

Optimize your business processes
We can provide the solutions that will help your company optimize its business processes. Become more agile and see increased profitability through decreased costs and increased revenue.

Get interactive
Our core focus is on providing solutions for management of resources, assets and operations in telecommunications, energy, government, agriculture and food, natural resources, environment, security and safety, and commercial industries.

Esri is the World leader in Geographic Information Systems (GIS) and offers a complete platform for mapping, analysis, data management and collaboration. All GDi products and solutions are built using Esri technology. We are an official Esri distributor and continue to successfully work together since 1989.
ArcGIS for Personal Use / ArcGIS for Student Use
For personal and non-commercial use, Esri offers a couple of great products, namely ArcGIS for Personal Use and ArcGIS for Student Use. These will accelerate your own personal and professional development and enable you to learn essential technical skills.
GDi Ensemble
Portfolio of GDi developed powerful tools and applications built using the latest technology and serving the requirements of specific business and organisation needs. Improve and transform your business processes and operations. Increase efficiency and drive down costs using our latest industry proven solutions.

Vladimir Skender, Network Planning, Development and Construction Director in A1, talks about importance of investments in stabile telecom network in these days and how GDi systems are helping in more efficient planning and construction of network in A1.

As part of GDi Innovation support and encouragement for digital technologies and entrepreneurship throughout Europe, we are proud to support a new call for applications to the EIT Digital Venture Program 2020.
GDi Atlas
Timely and up-to-date geographic digital data is met by GDi Atlas portfolio of data content products and services. Geo-enabled tools and applications interpret, analyse the data and provide reliable information for organisations to make the right decisions.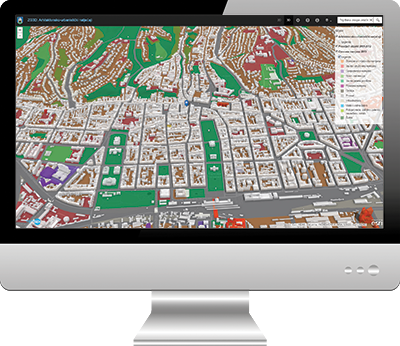 GDi Cloud
Using our cloud-based delivery platform we provide GDi products and services to our customers with the fastest way to market and with the lowest risk. Ensures a fast generation of revenue with increased efficiency for any business or organisation.
Your benefits
Focus on core business operations with increased efficiency
24/7 service availability, monitoring and support
Reduce business risk – no investment in hardware, software
Scalable architecture provides flexibility for expansion and growth
Share with others
Share our website