Powerful data collection engine for efficient business decisions
Need to know the location of the nearest electric charging station or find out other information in your vicinity? Maybe you are a data content provider or perhaps a business analysis company?
Ensemble Smart Search is a powerful tool that will provide the answers.
Our technology provides up-to-date information for such items as points of interest (POI), events or webshops. Based on a powerful targeted websearch, a database is then a built with any number of records related to your chosen keyword or key location. All information is geo-enabled which allows placement on a map for easy and comprehensive data analysis for any subsequent purpose.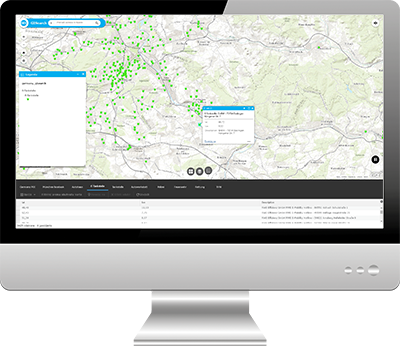 Some Key Uses:
Search for web pages relevant to your current location.

Search web pages relevant to ANY given location.

Collect POI information on web pages relevant to YOUR location.

Collect POI information on web pages relevant to ANY given location.

Search the entire web by category. Results can be displayed on a map (web, mobile).

Search for ANY kind of information on the web. Results can be displayed on a map (web, mobile).
Results that matter to you
Selected benefits and features include:
Extremely accurate search results
Smart Search technology gives users extremely accurate search results. Moreover, the tool is available for many languages and countries. The utilization of this technology has major advantages over standard methods – web searches are more personalized, targeted and effective.

Predefined search results
Smart Search comes with predefined search results and categories delivered as geo-located data for on-premises use. The data is made available with a predefined update period or as a map data service with the display of desired information for any given area. 

Confidently work with sensitive data
For work with sensitive data, Smart Search Engine can be configured for use in any closed environment – confidently display results only within your own organization.
Add a spatial dimension

Smart Search technology developed by GDi adds an extra spatial dimension to the basic concept and capability of standard search engines.

Rank results by spatial proximity
The results of a search are ranked by spatial proximity rather than simply by relevance. This is particularly useful when using location-based searches on mobile devices.

Provide automated POI database services
By using real-time web searches, the technology exceeds the limits of traditional POI databases. The search engine is not only able to serve end-users, but to provide automated POI database services.
Get in touch
Ask about using this in your business or organisation
Share with others
Share information about Ensemble Smart Search