Project Zagreb 3D
In partnership with the City of Zagreb (Office for Strategic Planning and Development), GDi implemented the project Zagreb 3D.
The result is a 3D model of the city that now serves as multi-functional tool in the areas of city planning, city management and for the protection of the urban area. GDi implemented a web solution that is accessible by both the public and for the specialist needs of the City administration. The solution provides savings in costs for data acquisition and allows the sharing and linking of information within the various departments of the City of Zagreb. The project implementation is regarded as highly valuable and is actively used in the following sectors of the city administration:
Strategic planning and development
Surveying and surveying services
Planning, building, construction, public utilities and transport
Energy, environment and sustainable development
Emergency management
Protection of cultural monuments and natural environment
Agriculture and forestry
Community information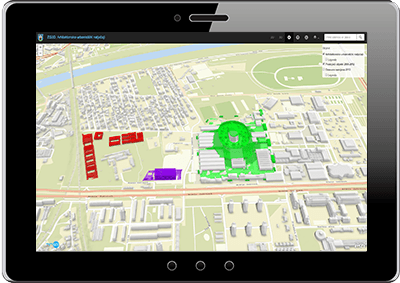 'We will certainly use the 3D model for the development and presentation of strategic city projects.'
'..it will be used during planning and for the visual representation of proposed urban plans'
City planners can check the impacts of proposed buildings by evaluating the visibility, views, cross sections, shadows etc.

Easy dissemination of information to those who need it among the city administration, scientific sector, citizens etc.

Valuable tool for both citizens and investors – they are better informed and able to participate in defining objectives for urban planning.

Increased efficiency for daily tasks leading to a reduction in costs.
Strategic and spatial planning, urban planning.

Protection of monuments of culture and nature.

Energy conservation and environmental protection.

Integration with many other activities within the City administration.
Changing your business
Contact us and find out how together we can make a difference in your business or organisation.