Kuwait University City
Operating and maintaining information & communication technology (ITC) infrastructure at Kuwait University.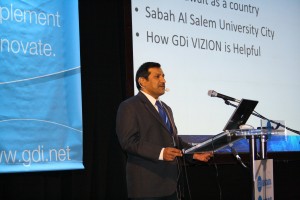 GDi Ensemble for Network Inventory – purpose and role in KUC.
The solution implemented allows the design and documentation of the university's telecommunications network in relation to other utilities (water, gas, electricity) and existing infrastructure (facilities, trenches, manholes, etc.). The solution allows export of information about the telecom infrastructure to a central geographical information system (GIS) repository on which is stored all information about digitized resources at the university (buildings, utilities).
In summary, it allows users to:
Track all information about the communication network.
Create an ordered and structured inventory of exterior and interior plant assets.
Support the design, build and maintenance life-cycle.
Control network maintenance operations.
Streamline business processes related to communications network data.
Decreased downtime of the network due to communication of any asset failure and efficient field technician dispatch.

Efficient allocation of new communication network structure due to the centralized repository of data.

More efficient and productive during planning of new communication network segment roll-out.
Establish and maintain an orderly design, build and maintenance process.

Improved resources preservation.

Respond to maintance duties in a structured way.

Streamline business processes on top of a centralized data repository.
Changing your business
Contact us and find out how together we can make a difference in your business or organisation.